MECHANICAL FIELD SERVICES
Real-time in the field engineering solutions.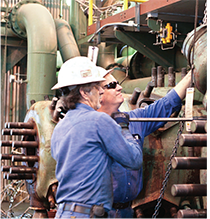 CECO Mechanical Field Services delivers on site service, analysis, repair, and replacement for air, gas and petrochemical compressors of all sizes and designs. Our expertise ranges from full compressor overhauls to servicing gas gathering, processing and gas pipelines. Our field crews have extensive experience servicing engines and compressors in the oil and gas industry.

Our core ethic is quality for our customers. At CECO we do it right!

THE COMPRESSOR EFFICIENCY PEOPLE
CECO provides project oriented and long term mechanical field services that dramatically cut your costs and time. We offer immediate repairs and parts replacement from our own large inventories of quaity parts, and can manufacture new components in our

Manufacturing and Precision Repair Centers. Throughout the length of the project, we analyze compressor and engine performance to maximize your productivity. We provide expert engineering support 24 hours a day 7 days a week, with real-time access. On site, faster, and more effective, CECO delivers.
TURNKEY, ON-SITE COMPRESSOR SERVICES
CECO Mechanical Field Services can extend the life of your compressor through redesign and rebuilding, or overhaul the compressor to run at optimum efficiency. CECO's compressor overhaul service includes everything from cylinder removal for reline services or field installation of slip fit liners, to furnishing and installing engineered equipment, pistons, rods, piston rings, and rider bands, as well as repairing packing cases.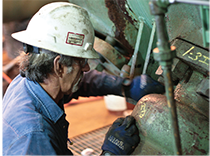 ENGINEERED QUALITY
CECO has been delivering OEM Superior
SM
products and services to the gas transmission, gas processing and petrochemical industries since 1964.

The background, skills and expertise of CECO Mechanical Field Services expands our industry leadership in maximizing compressor operations and costsaving services and products.


Turnkey, on site compressor services, from repair to replacement to overhaul

Technical expertise in the field with real-time engineering support

Performance analysis, troubleshooting, and engineering of reciprocating compressors of all sizes

A large inventory of quality replacement parts

New or custom parts produced in our Manufacturing and Precision Repair Centers

Services to gas gathering, processing, gas pipeline and refining markets



CONTACT US
5440 Alder Dr.
Houston, TX 77081
Phone
800-TRY-CECO
800-879-2326
713-664-7333
Fax
713-664-6444
Email
fieldservice@ceconet.com
www.tryceco.com
® CECO is a registered trademark of Compressor Engineering Corporation.
© 2011 Compressor Engineering Corporation Form 2104 9/11